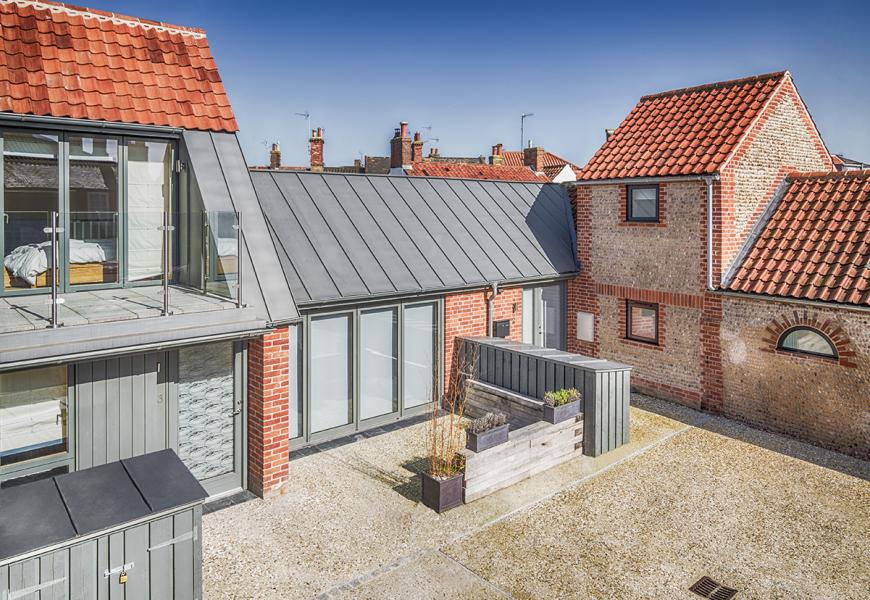 Chaplin Farrant Shortlisted for National Award
Smokehouse Court RICS Award Nomination
Chaplin Farrant, one of the largest multi-discipline architecture practices in Norfolk, has been shortlisted for a prestigious Royal Institution of Chartered Surveyors (RICS) Award for its residential conversion in Southwold - with East of England winners announced on 10th May.
The RICS Awards 2017, East of England are hailed as the 'Property Oscars' and Chaplin Farrant is up against seven national architectural firms from across Norfolk, Suffolk, Cambridge and Colchester in the 'Residential' category.
At Chaplin Farrant we have a strong reputation for providing high quality commercial and residential building designs since 1938. Our shortlisted project; the Smokehouse Court in Southwold involved our team transforming two dilapidated and disused former smokehouse buildings into three brand new homes.
As Southwold is a conservation area characterised by historic buildings, a contemporary yet sympathetic design blends old and new elements creating a high quality development using vertical grey timber boarding, metal roofing and large glazed areas.
Martin Lewis, Technical Director at Chaplin Farrant says: "We pride ourselves on deliverable architectural solutions and have worked closely together with the planning authorities and the conservation architect to retain and enhance the character of Southwold, resulting in high demand for these properties.
We are delighted that our work has been recognised by these prestigious awards and our team is very much looking forwards to Wednesday's awards ceremony."
Chair of the RICS Awards 2017 and on the East of England judging panel, Jonathan Nelson says: "Last year I was extremely proud to see the calibre of projects in the East of England and this year the standard is even stronger. I look forward to celebrating the successes of the talent behind the future of our region's built environment at the awards ceremony."
Back to News