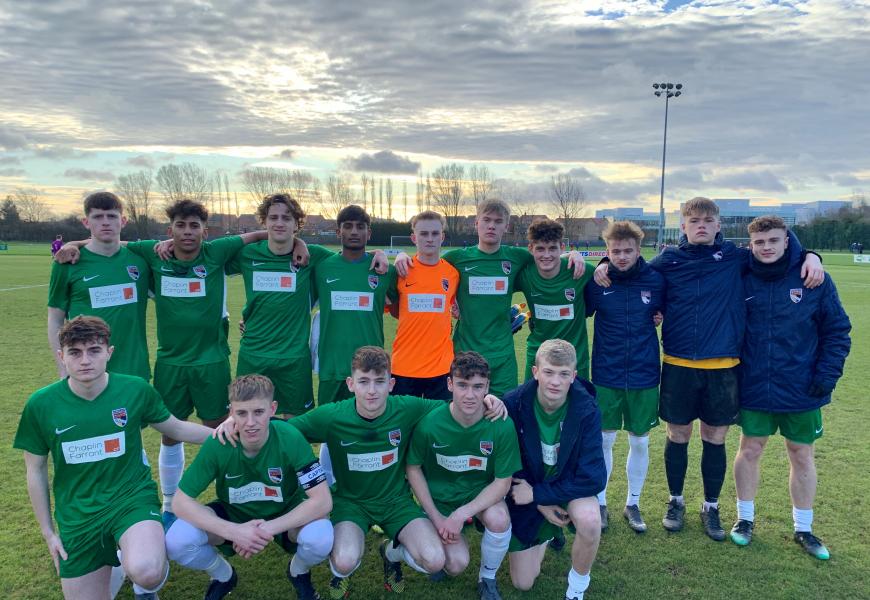 Chaplin Farrant Continue To Support Football In Norfolk
Chaplin Farrant are delighted to announce that we have extended our status as an official partner to the Norfolk Football Association and a supporter of grassroots football.
This sponsorship will see us continue to be the sponsor of the Association's annual Volunteers' Awards Evening, for the fourth year running, as well as becoming the Official Sponsor of the Norfolk U18's Representative Squad for this season.
The Association's annual Volunteers' Awards Evening allows the hardest working volunteers in the local grassroots game to experience a special evening where winners of a multitude of awards are recognised and rewarded for their tremendous support.
In addition, Norfolk's U18 Squad started this season's FA County Youth Cup journey in fine form, travelling away to Northumberland at the weekend in the Second Round and winning 4-0. Norfolk will be hoping to have another good run in the competition after reaching the final last season and lifting the trophy at the end of the 2017-18. We would like to wish the squad the best of luck.
Chaplin Farrant have assisted in the implementation of numerous buildings and facilities within Norfolk including the development of Young's Park in Aylsham, The Nest in Horsford and will be working with Gorleston FC in their re-location from Emerald Park.
As part of our Partnership, Chaplin Farrant will be providing professional services that will assist the County FA's plans for a variety of redevelopment works that are being considered at the FDC in Bowthorpe, Norwich, which will see a significant improvements for the customers that utilise the facility throughout the season.
Gavin Lemmon, Chief Executive of Norfolk FA said: "We are delighted to extend our partnership with Chaplin Farrant and as the U18's Manager, I would like to thank them for supporting our representative squad. I hope their faith can be repaid with a good cup run!"
"Norfolk Football would be nothing without the hardworking volunteers that give up their time to ensure that the beautiful game is being played across our County. Our Awards Evening allows us to reward those individuals and give them a little bit of recognition for all they do; and the continued support from Chaplin Farrant will allow us to make this celebration even better than previous years."
Mark Camidge, Director and Architect here at Chaplin Farrant said: " We recognise that without the volunteers that commit thousands of hours to grassroots football across Norfolk every year, access to the sport for hundreds of teams would just not be possible. We are pleased to be able to continue our sponsorship of the awards eventing for a fourth year to help recognise and reward the people who make everything happen."
"In addition, we are very excited to be able to provide the sponsorship for the U18 Representative Squad who have done so well over the previous year's showcasing the talent in the county and we look forward to another successful cup run this season."
Michael Banham, Chairman of Norfolk FA said: "Having worked with Chaplin Farrant for over three years now, the Association understand just how passionate they are to support the hard-working individuals within Norfolk football."
"With Chaplin Farrant's support, I hope our Under 18's Squad can do our County proud once again and excel in this season's FA County Youth Cup."
To find out more about information surrounding local football visit NorfolkFA.com.
Back to News