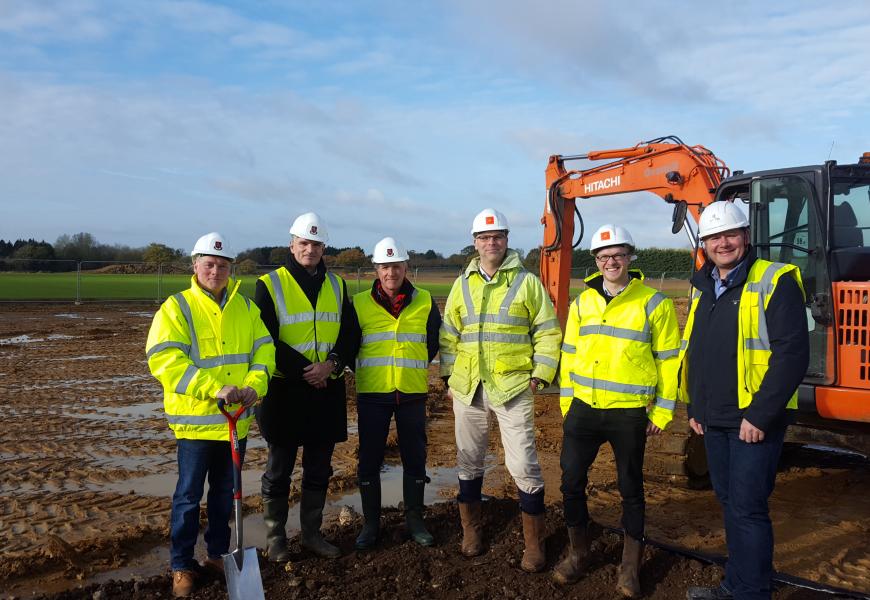 Future takes shape at Wymondham's new rugby club
Wymondham's new multi-million pound rugby club has started to take shape ready for a new era in the club's history.
Work on the foundations of the new club house off Norwich Common has begun after a summer of work levelling the site and preparing the pitches.
"It's a huge moment for the club – finally we're beginning to see the shape of things to come," said chairman Andrew Kilby.
The club is swapping its two pitches and small club house on Tuttles Lane for a new 30 acre site with multiple pitches and a club house which can host hundreds of players and guests.
"The aim is to get everything finished in time for the new season in September," explained Mr Kilby.
"It's going to be tight and the weather hasn't helped, but we're on track."
The new club house has been designed by Norwich architects Chaplin Farrant.
Martin Lewis, director at Chaplin Farrant and a coach at the club, said: "This project is a great example of collaborative working and we are very excited to be involved in bringing new facilities to the area that will enhance the lives of the local community.
"As a coach, it gives me immense pride to be able to bring Chaplin Farrant's expertise to help the club create one of the best sports complexes in Norfolk."
The new club has been paid for without public money thanks to a development deal on the existing Tuttles Lane site and a second site off Norwich Common.
It will have three full pitches as well as a network of smaller pitches for youth and children's rugby. The two-storey club house will have six changing rooms for teams, a modern kitchen and bars, dining area, meeting rooms and a rehabilation gym.
All the facilities will be available for other local clubs and businesses to use. "The aim is simple: to create one of the best sports complexes in Norfolk," said Mr Kilby. "It's taken a huge amount of work, but now we're counting the days until it's ready."
Back to News