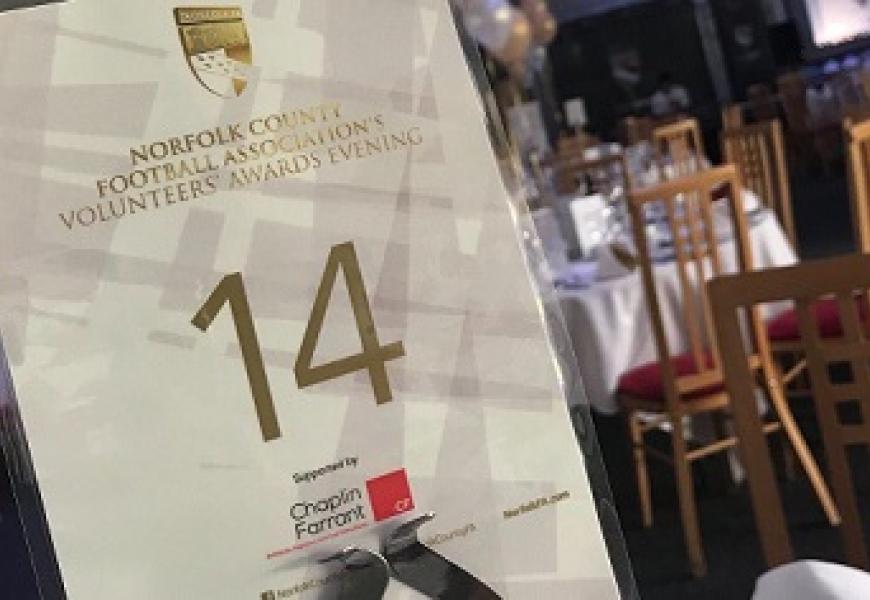 Norfolk FA Colloboration Announced
New Partnership Unveiled
Local football heroes recognised and new partnership unveiled at Norfolk FA Annual Awards Evening
The end of August saw Norfolk County FA recognise members of the Norfolk Football community at their annual Volunteers' Awards Evening which was held at Sprowston Manor.
Incorporating The FA Community Awards, The FA Long Service awards and various Norfolk awards, the Evening celebrated the incredible contributions that Clubs, Leagues and Individuals made to Grassroots Football in Norfolk during the 2016-17 season.
This year's event also showcased the support of award winning architectural practice Chaplin Farrant in the first of a three year partnership with Norfolk FA.
Based locally in Norwich and operating across East Anglia & the UK, Chaplin Farrant specialise in providing innovative designs with practical management and cost control.
A prestigious event in the Norfolk Football calendar, previous years has seen the likes of Jake Humphrey, Graeme Le Saux and Bryan Gunn join the evening as special guests. The new partnership saw Chaplin Farrant support the recently held dinner and awards ceremony in which Wimbledon and French Open Champion Alfie Hewett attended to present the awards. The Voice Kids star and local talent, Perry Cooke also performed on the night.
Already a prominent presence in the Norfolk Football Landscape, Chaplin Farrant are eager to be able to support the local game in a new way. The multi-disciplinary practice has already played key roles in the development of various football facilities around the county, including the impressive Youngs Park in Aylsham and are joining forces with Norfolk FA in a way that will showcase further the organisation's love and support for local football.
Chaplin Farrant Director, Mark Camidge said: "As a practice we have been involved in a number of football projects, both at grassroots and professional level and on every project the passion, commitment and time given up by volunteers to be enable these schemes to happen is invaluable. Without them so many just wouldn't reach fruition. To be able to support Norfolk FA in recognising these clubs and individuals is a real honour for us and it's fantastic to be able to give something back to help all the volunteers get the credit they deserve.
"We are passionate about the sport and this partnership over the next three years will hopefully help more of these grassroots clubs develop and promote the beautiful game."
Norfolk FA Chief Executive, Gavin Lemmon said: "We're delighted to welcome Chaplin Farrant on board, not only as a valued partner of Norfolk FA but also in supporting such a fantastic event in our seasonal calendar. Chaplin Farrant as an organisation already play a significant role in the development of football facilities in Norfolk and we at Norfolk FA are extremely appreciative of them now wishing to support the game further.
"Norfolk Football would be nothing without the hardworking volunteers that give up their time each and every week to ensure that the beautiful game is being played across the County. Our Awards Evening allows us to reward those individuals and give them a little bit of recognition for all they do; the support from Chaplin Farrant will allow us to make this celebration even more memorable moving forward.
"May I once again congratulate all of this year's winners of awards and thank all of Norfolk's amazing volunteers that allow so many to enjoy football within our great county.
The recent event was a huge success with lots of great feedback from winners, clubs, leagues and other guests from around the County. As a part of their new strategy, Norfolk FA gave away over 120 free tickets to the event ensuring many could come along to celebrate such fine achievements in the local game.
The winners from the evening are as follows:
The FA Charter Standard Club of the Year – Stalham Youth FC
The FA Charter Standard Development Club of the Year – Freethorpe FC
The FA Charter Standard Community Club Award – Taverham FC
The FA Charter Standard League Award – Norfolk Combined Youth Football League
Best Inclusive Project – Providence Street Football Group
Young Volunteer of the Year – Harvey Newstead (Norfolk FA match official, Football Futures Leader & member of Norfolk FA Youth Council)
Coach of the Year – Keith England (Costessey Sports FC)
Peter Smith Groundsman of the Year – Steve Finch (Wells Town FC)
Outstanding Contribution to Community Football – Colin Tungate (Martham FC)
Norfolk FA Special Recognition Award – Shayne Hill (Caister FC)
Long Service Awards:
10 Years' Service as Club Officer – Paul Head (Scole United)
15 Year Long Service (officer) – Chris McCullough, Graham Jubb (The Anglian Combination Football League)
25 Year Long Service – Mick McCann, Martin Acheson, Colin Whurr & Alan Edwards. (Aylsham, Norwich & District Saturday League, Sprowston Wanderers)
The FA 50 Year Long Service & 25 Years' Club – Bryan Wicks (Beetley)
The FA 50 Year Long Service – David Smith (50 years as a Norfolk FA match official)
15 Year Long Service Award (Norfolk FA Council) – Michael Banham (current NCFA Chairman)
Special Award - Services to Norfolk FA – Shaun Turner (Former CEO)
A full review of the winners can be found on NorfolkFA.com.
Back to News