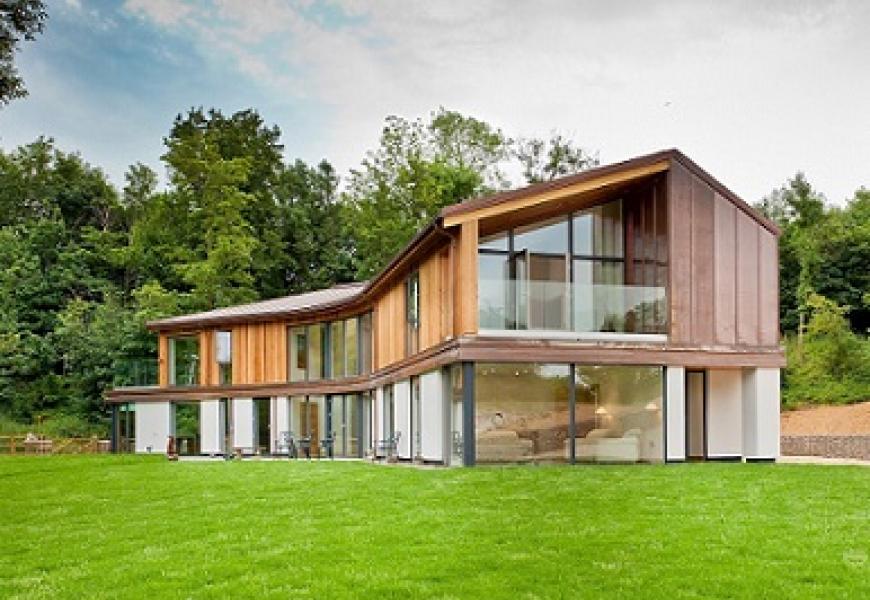 Two Awards for Wild Acres
'Astonishing' house wins two awards in one week
We are delighted that our innovative house in Heydon, near Saxthorpe, has won this year's Graham Allen Award as well as the People's Choice Award, which is determined by way of public vote during the Greenbuild weekend at Felbrigg.
The Graham Allen Award is presented annually by North Norfolk District Council to the project considered to make the most significant contribution to the built environment within the district.
The project involved the demolition of a bungalow and the clever re-siting and building of a new four bedroomed home using crisp and contemporary architecture. The project was praised by judges for its intelligent reaction to site context, topography and landscape setting; visual interest portrayed by the curved form; low lying position and shallow pitch ensuring a discreet presence; and sustainable technology including ground source heating.
Cllr Sue Arnold, Cabinet Member for Planning, said: "The judging panel were blown away by the quality and innovation they saw on site and the use of an interesting mix of materials.
"Use of materials, careful design and a sustainable approach have all been combined to create a stunning piece of contemporary design which has used site context to create unique qualities and identity. "We would like to offer huge congratulations to all those involved in the Wild Acres project and also many thanks to all the other very high quality entries."
Martin Lewis, Director at Chaplin Farrant, "Wild Acres takes its design inspiration from its natural surroundings and aims to have a minimal impact on the site and further countryside.
We are delighted that this ambition has not only been achieved, but has also been recognised via the Graham Allen Award and the comments and feedback from the judges."
Back to News