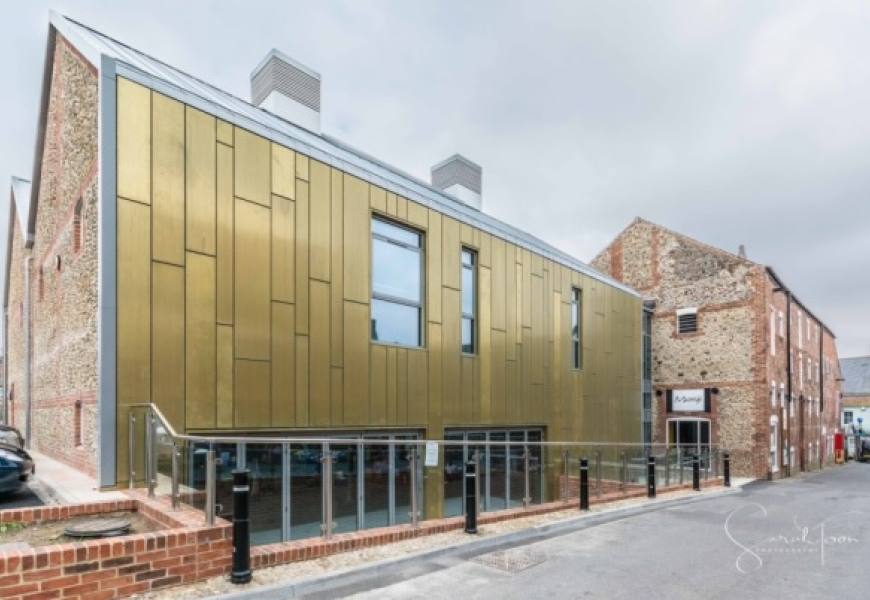 Official Launch of Wells Maltings
North Norfolk cultural landmark Wells Maltings has officially opened its doors today. 
This vast project begun in 2016, with major renovation work being undertaken to restore the tired Grade II Listed Maltings to its former glory. The exposed beams and roof were restored, traditional wind cowls have been reinstated on the roof of the Kiln Room and an original external flint wall is now a feature of the entrance. The windows were replaced with bespoke replacements replicating the originals, with the internal window shutters and original grain chute retained in the Kiln Room to emphasize the historical significance of the building. 
The brass and zinc-clad extension was designed to be a bold and modern contrast to the existing Listed building and increases the floorplan to provide a flexible and creative space for locals and tourists alike. A new glazed full-height atrium was designed act as a buffer between the two distinct structures with an expansive roof lantern flooding the space with natural light. The brick and flint gable on the new extension references the materials used on the original Maltings building. Entrances on both sides of the building provide easy access to the facilities. 
The main work was completed by May 2018 and the Wells Maltings Trust opened the doors for an initial preview season over the summer with selected activities chosen to test the new space. Click here to visit their website and watch the construction time lapse video: https://www.wellsmaltings.org.uk/watch-our-construction-time-lapse-video/ 
Photos courtesy of Sarah Toon Photography - www,sarahtoonphotography.com
Back to News