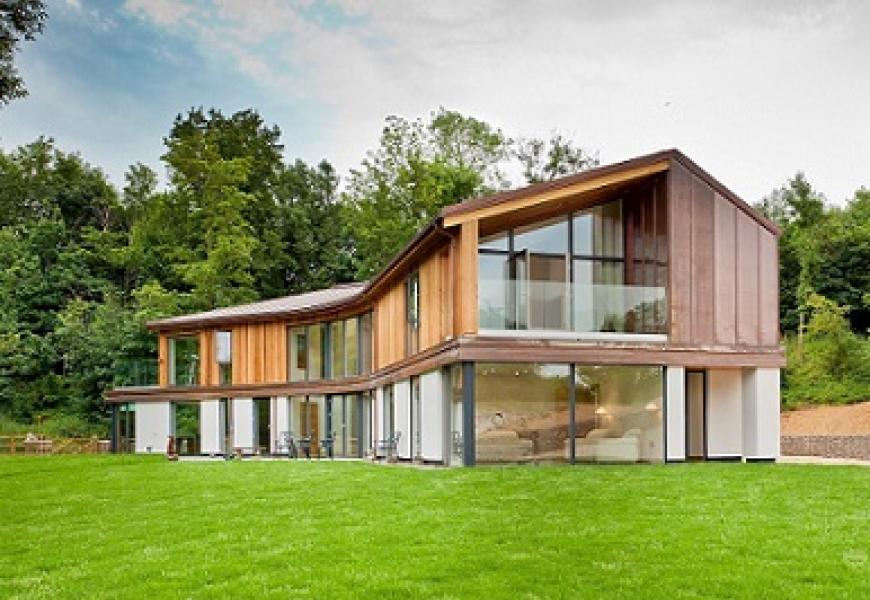 The Kilns
Stunning contemporary home is complete
Work has recently completed on a one-off project in North Norfolk. Near the village of Corpusty, the house is designed to have minimal impact on the surrounding countryside and is set amongst a large number of mature trees.
Situation in a disused lime works, the form of the dwelling is organic, taking inspiration from its natural surroundings.
The vertical properties of the design, including the glazing, cladding and roof take inspiration from the trees with the new dwelling much more in keeping with the scale of its surrounding residential properties.
The use of a shallow pitch roof and the efficient use of space within the roof itself ensures that the dwelling has a low ridge height not exceeding that of the original dwelling. The elegant roof form follows the site contours to ensure the dwelling merges with the natural landscape and maximizes the views and natural sunlight.
The curvature of the dwelling mirrors the natural landscape and provides an internal curved balcony. The full height of the building floods the area with natural light with glazing maximising the views onto the landscape.
The building's forms and material palette have been designed to create a contemporary scheme that also sits comfortably in its surroundings. The use of natural materials such timber and copper ensures that the dwelling will merge into its environment.
The dwelling is highly sustainable with ground source heat pumps, high levels of insulation, a timber frame construction and the use of natural materials such as copper roofing, timber and cedar cladding and lime render.
Back to News